FHS Theater Guild Puts on Production of Romeo and Juliet
For months, Farmington High School Theater Guild worked tirelessly to put together the best possible performance of this year's spring show, Romeo and Juliet: The Telling of Askew. Directed and Written by Diana Mays-Nielson, the characters from the original telling of Romeo and Juliet returned in some fashion, however the actual story has a twist to it. The performance, led by Michael Koppeis (Romeo) and Sophie Yilmaz (Juliet), tells the story of a High School Production of Romeo and Juliet that goes terribly awry. Essentially, Koppeis, Yilmaz, and the rest of the cast played characters playing as characters from Romeo and Juliet.
While it may be surprising to learn, Koppeis had very little Theater experience prior to auditioning for Romeo and Juliet
Koppeis had only been involved with one other play, a World Cafe Production of La Llorona, where he played the show's lead, Rodrigo. With having only that little bit of theater experience, getting the plays lead is a bit of a surreal experience for him. "I still don't know why I was chosen to play the lead amongst all of the talented people that auditioned. I just showed up to audition, did really badly because I was very nervous, but managed to get a callback. It feels amazing, but also very overwhelming as I have the most lines to memorize and the least amount of experience."
There was a long road to Koppeis auditioning. "I made the promo video for 12 Angry Jurors, and with that I realized I knew a lot of people there. When I left that shoot, everyone told me I should try out for the next show. When auditions came around for Romeo and Juliet, Parker [Shinn] told me to come to auditions. I went with Nora [Berkbigler] and Cadence [King] who only wanted to work tech, but Parker said that there was this weird technicality where even if you wanted to work tech, you still had to audition for a part." Koppeis revealed however that this is not true, and that Shinn has used this ploy to recruit numerous people to the FHS Theatre Guild. "All three of us ended up getting callbacks, however Cadence had to drop out due to prior obligations." Berkbigler ended up getting the part of Lord Capulet.
While Koppeis may not have had much prior experience in theater, he's no stranger to acting and production arts. Since 2018, Koppeis has run a YouTube channel, where he has done numerous parodies, sketches, game shows, and podcasts. While theater is different, his prior experience on that side of the spectrum certainly helped him. "The principle is very much the same. When I make a YouTube video, I have to memorize lines, the only difference is that I can say things repeatedly and take the best cut." As for performing in front of a live audience, Koppeis said that he wasn't that worried about it, as a YouTube comment section is much much more judgemental.
As for this play's Juliet, Yilmaz has had prior experience in numerous theater productions, such as The LIttle Mermaid, Frog and Toad, James and the Giant Peach, The Wizard of Oz and even a production of Legally Blonde, Jr. at The Muny in St. Louis, Missouri. Yilmaz was also in the FHS Theater Guild Production of 12 Angry Jurors. She added that with most of her prior experience being through production companies, working with the school's theater guild was a bit different given that it is in part still an educational experience.
Yilmaz said that her prior Theater experience, especially her work in 12 Angry Jurors, is what led to her auditioning for Romeo and Juliet. Regarding difficulties during rehearsals, Yilmaz said, "The talking, the tripping over people backstage, tripping over my costume, mostly just me being clumsy and tripping over everything. However, the struggles have definitely subsided since we first began rehearsals." Despite all of the craziness and chaos, Yilmaz clarified that she has "never had more fun!"
On March 24th, 25th, and 26th at the Truman Auditorium, The Farmington High School Theater Guild gave absolutely stunning performances that had audiences laughing nearly the entire time. Everyone involved, both on and off stage gave Romeo and Juliet: The Telling of Askew their all, and it undoubtedly paid off. They worked through the hardships, made adjustments when needed, and even improvised in the heat of the moment.
Leave a Comment
About the Contributor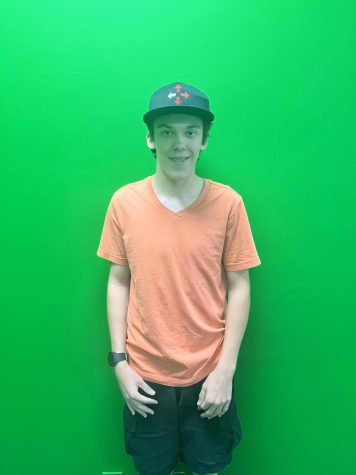 Allen Smith, Journalism Staff
Hobbies: Listening to music, playing guitar, playing video games, and writing
Spirit Animal: Jerry the Mouse
Theme Song: I'm Not by Zero 9:36
Favorite...