FHS Girls Soccer Update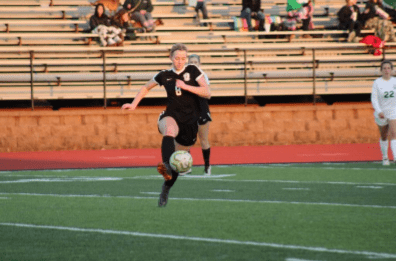 The 2019 FHS girls soccer team is celebrating their senior night on April 22, 2019.  Seniors, Sophie Boyer, Macy Embry, Anna Hansen, Anna Morrow, Rachel Turner, and Riley Turner, are celebrating their past four years on the field.  Over the course of this season, the team has gained numerous new players who have all brought various strengths to the table. I had the opportunity to talk to some of the new girls, as well as one of the Juniors who has played for her entire high school career.  
Bridget Bone is a sophomore on the soccer team, and this is her first year playing.  Bridget mentioned the constant improvement the team experiences after each game, and appreciates playing with such a welcoming team.  Anna Hansen is a senior on the soccer team, playing while she is studying abroad at FHS from Denmark. Anna is amazed at how much talent the team has this year, and she stated the large size of the team allows for both a JV and Varsity team.  
The girls' last game was against Sikeston, and both JV (2-0)  and Varsity (3-0) claimed victories. Although the team may not win every single game, they are certainly putting forth maximal efforts during every game.  Anna Hansen also told me she enjoyed watching the team work so well together at their games against DeSoto and Jackson. Many times in High School athletics, teams may struggle to cooperate with their counterparts; however, the FHS Girls Soccer team portrays an excellent bond that surely can not be broken.  This may be due to the fact most of these girls have been playing soccer with one another for nearly their entire life.
Abby Vaugh is a Junior on the soccer team, and has been playing soccer for 11 years.  Abby mentioned that the girls soccer team this year is still searching for their strong players in specific positions, but is hopeful that by districts they will have found these strengths, and hopefully make it far.  In past seasons, the team has struggled to find their harmony, but Abby thinks this year they are finally starting to trust each other, and acknowledge what is going on around them to allow for advanced passing and forwards into scoring positions.  Last year the team got 2nd in districts, so their goal this year is to go all the way. To achieve this goal the team is trying their best at each game and practice, and consistently giving their all!
Be sure to check out the girls team at one of their upcoming games, before it is too late!  Their last home game is on May 6th vs. St. Vincent, and districts are May 11th – 18th at Cape Central.  Go Knights!
Leave a Comment