Ways to Spice up Thanksgiving
The special holiday full of food and family greeting is almost here! It's important that you'll have the best food set at the table for your family and friends. Use these links to find some of the best delicious recipes you'll need for having the best Thanksgiving of the year!
Sweet Potato Poutine from The Food Network
Spice up your Sweet potatoes with this Sweet Potato Poutine Recipe. This takes about thirty minutes to make at an easy level. "What looks like a plate of poutine (french fries topped with gravy and cheese curds), is actually a familiar sweet trio: sweet potatoes, brown sugar and toasted marshmallows." This is a five star side dish with good reviews.
Triple Cheese Spirals from The Food Network
Why make regular macaroni when you can make these Triple Cheese Spirals. Takes about fifteen minutes to cook and twenty to prepare. Includes spiral pasta and a crunchy panko topping. Very creative, quick, and easy! There are several good reviews on this recipe and it's highly recommended. This is a good recipe for those who don't eat meat.
Better your Turkey
A little turkey tip: Instead of cooking the entire turkey all together, cook the legs and breast separately. Cooking the breast at 145° and then the legs at 165°, will ensure that the turkey doesn't dry out! realsimple.com/holidays
A way to add more flavor to your turkey is to inject it with butter or apple juice. "It adds moisture and help penetrate down into the meat." You can also use a delicious glaze. "Combine 3 tablespoons of butter, 1⁄4 cup bourbon and 1/2 cup of maple syrup in a pot over a side burner on low heat." (Kevin Kolman) weber.com
Rice Krispie Treat Turkey Pops by Beth Klosterboer
Want a fun little treat at your dinner? Make these Rice Krispie Treat Turkeys! These quick and easy chocolate covered rice krispies pops are cute and creative but also delicious. Only made with store-bought Rice Krispies, pure milk chocolate or melted light Cocoa Candy Melts, and white modeling chocolate (orange, black, and red candy coloring). There are several good comments on this dish, several people enjoyed them.
Green Bean Casserole by Ali
A classic for Thanksgiving is a nice Green Bean Casserole. This casserole is lighter and more healthy than other recipes. "Made 100% from scratch with lightened-up ingredients, including a delicious creamy green bean filling and a crispy onion topping." This delicious mixture of green beans, a crispy onion topping, and mushroom alfredo sauce has ratings of 5 stars! This popular recipe takes about an hour and forty-five minutes, so get cookin'!
Cheesy Corn Casserole
One of my personal favorites is Cheesy Corn Casserole. "This comforting six ingredient Cheesy Corn Casserole takes just 10 minutes to prepare and will without a doubt become your most requested side dish." With 5 stars and lots of good reviews, this recipe will not let you down! Made with canned creamed corn, can corn drained, Jiffy cornbread mix, 2 eggs, shredded cheese, and vegetable oil. This link shows everything you need to know!
Leave a Comment
About the Contributor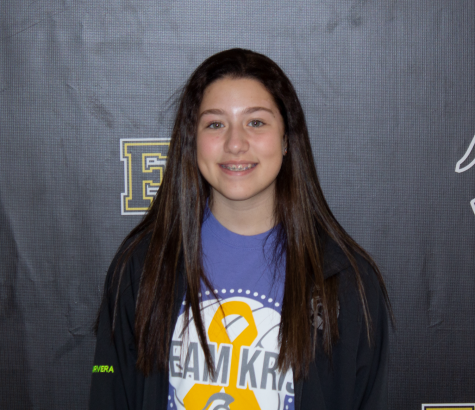 Peyton VarVera, Author
Interests: I love fall, going places, and hanging out with friends

Favorite Quote: "You should never take more than you can give" -Elton John

Theme...