Farmington vs. Central: Rival Football Showdown
We got a full taste of what a rivalry game is all about on Friday the 25th of October as the Central Rebels traveled to Farmington to take on the Black Knights for the final game of the regular season. Class 3 Rebels and Class 4 Knights both entered the game with an identical 6-2 record. Central was coming off a hot six-game win streak, and Farmington was trying to bounce back from a tough loss to Lutheran North the previous week.
The Rebels struck first as Dayshawn Welch marched into the endzone to give Central the lead on the first drive of the game. Farmington was able to tie it up in the first quarter and ended up in the endzone early in the second quarter to take a 14- 7 lead. With time winding down in the first half, Judd Cunningham was able to stop Welch on the 3rd and 4th down attempts. The Knights were able to score one more time before the end of the quarter and took a 21-7 lead into halftime. 
The Knights got the ball to start the second half and Kaden Files got the offense back in a rhythm pretty quick when he threw a 56-yard touchdown pass to Royce Harris. Farmington didn't stop there, though. The Knights KO squad was able to put some points on the board when Dayshawn Welch fumbled the ball on a kickoff return, and Drew Felker picked it up and took it home for another Knights touchdown. Files tacked on additional points when he threw a 21-yard touchdown pass to wide receiver Eli Lamb. The Rebels Dayshawn Welch was able to find the endzone one more time in the contest. Farmington's 2nd team got the chains moving as well when quarterback Jake Bishop was able to get the ball to the one-yard line before he was stopped and Brady Cook plunged it in the next play.
Besides all the controversial flags during the game, it was as action-packed as it gets as Farmington walked away with the 49-14 victory during rivalry week. Dayshawn Welch led all rushers with 128 yards. Kaden Files had 110 rushing yards and two touchdown passes. With help from Braden Botkin and Royce Harris, it looked like they took the win with ease.
Farmington advances to 7-2 and was named the first seed in Class 4, District 1 and will be hosting 3-6 Windsor in the first round of district play next week. They will be looking to make a deep playoff run. 
Central moves to 6-3 and will be facing Dexter in the first round of district play.
Leave a Comment
About the Contributor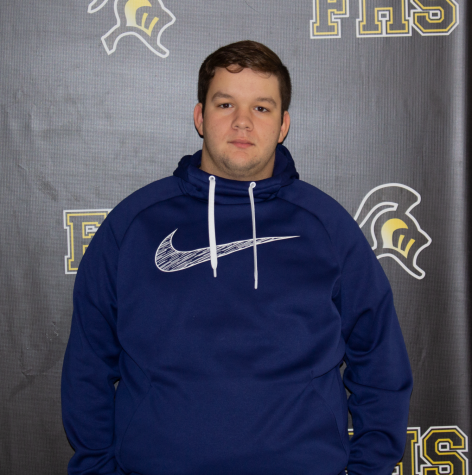 Matthew Farris, Sports Writer
Interests: Football

Favorite Quote: "Keep Chopping Wood" -Erik Kruppe

Theme Song: Mo Bamba 

Dream Job: ESPN Analyst 

Dogs or Cats: Dogs

Writer...