Farmington vs. Jackson Football Matchup
The battle between two 5-0 conference opponents was the game to watch last Friday night as the Indians traveled to Farmington to play smash-mouth football. Jackson ranked 1st in class 5 and Farmington ranked 9th in class 4, but was coming off the undefeated high, which made for an entertaining game.
Prior to this game, Farmington's defense had been holding teams to an average of 9 points a game while being more than capable of producing on the offensive end as well. Even with star back Royce Harris playing time being dramatically decreased from last season. Farmington has shown that they can still produce on the offensive side of the ball without a problem thanks to key contributors such as quarterback Kaden Files and running backs Braden Botkin and Demond Guthrie.
The Jackson Indians have had an exceptional season with an offense that scores an average of 50 points a game, and a defense that's only allowing 5. The Indians starting running back had a season-ending injury against Battle the previous week. Nevertheless, they were still ready to come and get the job done in Farmington.
The first half of the game was all about the defense as both teams shut down their opponents' offense. It was a back and forth game as Farmington had no problem interrupting Jackson's passing game. With the quarterback being pressured by Farmington's defensive line, and Farmington's secondary doing their job they were able to keep Jackson from scoring during the first two quarters. Jackson's defense was able to stop Farmington's run game for a majority of the first half. Farmington full back Braden Bodkin marched for a 28-yard touchdown directly after a fumble recovery by Alex Smith. After the Knights missed a field goal by Kael Krause, Farmington went into halftime up 7-0.
In the third quarter Farmington gave up two unanswered touchdowns to Jackson, and with both field goals going through the uprights it left the score 7-14. Farmington's running back Royce Harris caught a pass from quarterback Kaden Files halfway through the third quarter and ran for a 67 yard touched after splitting multiple defenders. The Knights defense was able to stop the Indians for a few more drives until Jackson's offense was able to break loose and scored two more touchdowns. The Indian's defense was able to shut down Farmington and even was able to force a fumble that was recovered and ran home for a touchdown. With the final minutes of the fourth quarter winding down the game was too far out of reach. The final score 35-14 and it was everything but a walk in the park for Jackson. It was a game between two great teams and really showed Farmington's worth.
Jackson (6-0) will be traveling to Poplar Bluff this Friday to take on the Mules (3-3) and possibly win a SEMO Conference Title.
Farmington (5-1) will visit Sikeston (2-4) to wrap their conference play and to start the final push of the season to get ready to make a playoff run.
Leave a Comment
About the Contributor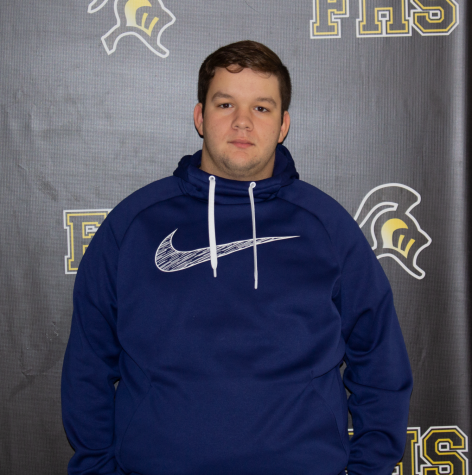 Matthew Farris, Sports Writer
Interests: Football

Favorite Quote: "Keep Chopping Wood" -Erik Kruppe

Theme Song: Mo Bamba 

Dream Job: ESPN Analyst 

Dogs or Cats: Dogs

Writer...