Farmington Cross Country Staying Strong During This Difficult Season
A few short-lived months ago just after the quarantine hit, the 2020 Cross Country team wasn't quite sure how the season would look or if the season would happen at all. While the school staff and administrators tried their hardest to normalize sports during the pandemic, cross country was still a bit different than normal. I asked varsity runner Breanna Mathes what her thoughts were on how COVID-19 affected her season this year she replied "COVID -19 changed our season in many ways, but the main reason was how the school wouldn't allow us to go on overnight trips and they tended to be our biggest meets".
While the 2020 Cross Country team has had to overcome these changes due to COVID-19 there still have been many outstanding performances from both varsity and junior varsity so far this season. As a whole, Farmington Cross Country has taken many first place victories as well as a couple of second-place finishes throughout the whole season with a hopeful few more to come going into districts and state. Varsity runner Adam Perry states "This year is the most successful we've been as a team in years, I'm grateful I get to be a part of it".
With this being a tough season, different from previous years. I asked a few runners what has kept them going strong through this year's season. Adam Perry answered, "I'd say my biggest inspiration is my dad. He's been by my side throughout my whole running career and pushed me throughout numerous injuries". Breanna Mathes also commented, "The fact that the season wasn't promised in the first place, so you had to treat every race individually". With the season coming to an end in a few weeks I asked Farmington Cross Country coach Jordan Stone what his thoughts were for this year's season, Stone replied "Overall I have been very satisfied with the results we've gotten this year, I feel very fortunate that COVID-19 didn't keep us from competing".
Moving forward both varsity girls and boys took first place overall for the third year in a row, as well as many individual victories at this year's conference meet in Potosi Missouri. Regarding the seasons ending Farmington Cross Country would like to recognize the teams 2020 seniors who got to experience their last cross country season despite the differences from past years due to COVID-19, these seniors are Adam Perry, Gavin Anderson, Max McKinney, Steven Quinten, Ray Morrow, Lucus Colligan, Bryan Arango, Emma Spiker, Rachel Wilson and lastly the team's manager Emma Williams. Catch the Farmington Cross Country team in action on Saturday, October 17 at Engler Park for the annual home meet.
Leave a Comment
About the Contributor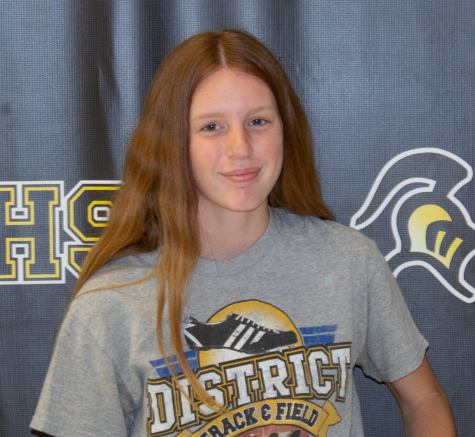 Arinn Griffith
Interests: Cross country, track, and writing

Quote: "If it doesn't challenge you, it won't change you" -Fred DeVito

Theme Song: "Best day...