Farmington School District Says Farewell to Mrs. Regina Brown-Vaughn
Over the years, Mrs. Regina Brown-Vaughn has impacted the lives of many of her students through music education. Brown-Vaughn has been a music educator at the Farmington School District for 25 years. Earlier this year, Mrs. Brown-Vaughn announced that she will be retiring after 33 years of teaching.
Mrs. Regina Brown-Vaughn has gathered many wholesome memories throughout her years teaching at the Farmington School District. She has fond memories of working with friendly colleagues and experiencing moments she will never forget.
"I have worked with some terrific colleagues, and we have had a lot of fun together. I loved working with Linda Huck and John Minnis. I will never forget when we found a live mouse in Mrs. Huck's desk drawer, and the janitor dumped all the contents of every one of her desk drawers into a huge pile in the middle of the music office floor trying to find the mouse. I will remember going to Six Flags with Mr. Minnis and many many 6th graders, often in the rain. I will remember being the "orchestra" for Mr. Minnis and the Kindergarten plays."
As a music teacher who has experienced working with a variety of different students and classes, Mrs. Brown-Vaughn has learned many valuable lessons about the importance of music throughout her career.
"I have learned that music is so important to helping us learn about ourselves–we learn self-discipline, we learn empathy, we learn to value teamwork and we learn to be a productive and helpful part of a group effort."
Being a music educator is something that Mrs. Brown-Vaughn is grateful for, as she can watch her students learn and grow, and go on to do great things. She also believes in the value of teamwork when it comes to music.
"It takes everyone to succeed, and helping students learn to work together has been a challenge and a joy. We have sent quite a few students off to college who have earned their music education degree, and I will always be glad and grateful that I could help to nurture the next generation of music educators, because being a music educator has been so important to me."
Mrs. Brown-Vaughn hopes to stay involved with helping students in the music program at Mineral Area College and Farmington Middle School if need-be. She also works as the AV and music director at Farmington Presbyterian Church. Brown-Vaughn also leads the ukulele group there! You can find them on FaceBook by searching 'Ukulele Hoot Farmington Missouri'.
"I am looking forward to continuing to teach adjunct for MAC, having some Grandma time with my grandson Theo, and working part time."
"I have always loved to sing," Mrs. Brown-Vaughn says.
She has been singing in church since she was a little girl, and even in grade school. In the fourth grade, Mrs. Brown-Vaughn began playing the clarinet and by the time she was in junior high, she knew she wanted to pursue a career in music education. Brown-Vaughn became serious about taking piano lessons and even took private lessons on music theory with her band director in preparation for college.
"Music was always my happiest place when I was in junior high and high school, and I wanted to always be surrounded with that kind of feeling."
Although pursuing a career in music education has its challenges, there are many benefits to continuing down the career path. Mrs. Brown-Vaughn considered majoring in business, but ultimately decided to study music.
"Now, what no one tells you about majoring in music is that it is hard work and you are always busy, but I also made some lifelong friends that, had I been a business major, I probably would have never met."
There are many moments that Mrs. Regina Brown-Vaughn is going to miss. Watching students progress and grow as singers and musicians fills her heart with joy. Creating beautiful works of musical art can be challenging, but the journey makes it all worthwhile.
"I will miss being in front of choirs every day. Watching students make progress, improve and create a finished product we can be proud of is a process, but it is a joyful journey. Some days are better than others, of course, and sometimes you think you'll never get there, but most of the time it comes out better than you thought it would in the beginning."
The gift of music is special to Mrs. Brown-Vaughn. She hopes that her students will learn to embrace the gift just as much as she does, and that they will continue to take their musical gift and do amazing things!
"I hope my students know that music is a lifelong gift–I hope they keep singing and playing and growing and learning and creating through high school and beyond! I hope they know that my enthusiasm for their success is real. I want them to know that having them in my life mattered to me, and it always will."
Mrs. Brown-Vaughn has truly embodied the gift of music throughout her career. Many students have developed a true passion for music because Mrs. Brown-Vaughn has inspired them to go further. For aspiring music educators, Mrs. Regina Brown-Vaughn recommends expanding your musical talents.
"Take piano! If you aren't taking it yet, take it! If you are primarily an instrumental musician, be in choir. If you are primarily a vocal musician, learn an instrument, especially piano and/or guitar. Everybody should try the ukulele–you'll love it and it is so handy."
Mrs. Brown-Vaughn also encourages aspiring music educators to reassure themselves of their initial passion for music even in the depths of challenging times.
"Remember why you wanted to study music in the first place–because you love it!–and be sure not to let the stress and busy-ness burn that love out of you. And remember what a gift music is to the world. You are going to help kids discover that gift within themselves, and that is a good way to spend your life and time."
The final concert for Mrs. Brown-Vaughn's middle school Boys Chorus, Girls Chorus, and Select Choir will take place on May 18, 2023 at Truman Auditorium. Many students are excited for this concert, but are also emotional, as this will be their final concert with Mrs. Regina Brown-Vaughn.
"I feel as if I am going to be holding back tears through the whole concert. I know that going onstage and thinking about how this will be my last middle school Select Choir concert and my last concert with RBV will trigger my emotions," says 8th grade Select Choir student, Miley Washington.
Leave a Comment
About the Contributor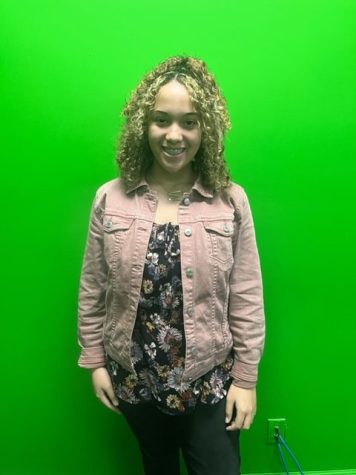 Mady Washington, Journalism Staff
Hobbies: Swimming, reading, writing, and Sudoku
Spirit Animal: Owl
Theme Song: I Wanna Be Yours by Arctic Monkeys
Favorite Quote: "When they go low,...