Knights Display Strong Conference Showing; Revving Up State Run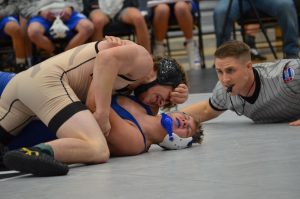 01/28/19
While Class 4 Jackson secured the SEMO Conference wrestling title for the third
consecutive year, your Class 3 Knights achieved a more than deserved runner-up trophy in the
tournament. Three Farmington wrestlers were able to tussle their way to championships in their
respective weight classes.
In the 113-pound division, Austin Wadlow proved that he is more than deserving of
being ranked the #1 113 wrestler in Class 3 as he was able to pin all four of his opponents en
route to a manageable weight class championship won in dominant fashion.
Judd Cunningham was the Farmington representative at 195, and while he did take a
heartbreaking overtime loss to to Jett Featherston of Dexter Friday night, Judd was able to weave
his way back into the finals for a rematch against Featherston. Cunningham pulled through and
found himself at the top of the podium with a 4-2 effort. When asked about his performance
Cunningham stated, "I feel like I did pretty well but there are still a lot of improvements I need to
make as an individual."
Dalton Berg, the #2 wrestler in Class 3 at 220, was the third champion on the Knight's
roster over the course of the weekend, as he defeated all four of his opponents by way of fall.
"Coming into the tournament Coach Krause's message was to stay calm and stay confident
because there was no reason why we couldn't contend for the conference title as a team," Berg
explained, "As a team, we plan on making a last push from a condition aspect as the season
rounds out, and we intend to compete for a district title as well as taking a full lineup to state."
To round out Farmington's placers, Kyle Crawford finished second in the 120-pound
class. Three separate Knights were able to find victory in their third place matches. Drew Felker
(132), Smokey Branch (145), and Colby Vinson (152) all found their way onto the 3-spot on the
podium in their contribution to Farmington's second place finish. Dayton Boyd finished fourth in
the 106 division.
The Knights' varsity wrestling team will have one more meet in Ste. Genevieve on
January 30 before they enter district tournament play starting on February 8.