FHS Theater Guild Prepares for Clue
Farmington High School's Theatre Guild has been working for months to put on the best possible performance of this year's fall production, "Clue". Rehearsing tirelessly, students have been practicing lines, working on movements and positioning, and even learning how to carry dead bodies. Based on the board game and 1985 film of the same name, "Clue" follows an ensemble cast of blackmail victims who arrive at a mansion, are given a weapon and are introduced to the blackmailer. It is after this that mysterious deaths start occurring.
As with any and all theater productions, "Clue" has had its respective ups and downs throughout rehearsals, but the cast and crew were presented with a somewhat unique one that they were forced to overcome. Diana Mays-Nielson, a teacher at FHS and director of all of the school's Theater Guild productions, has experienced hearing loss as a result of a battle with cancer. Thankfully, Mays-Nielson is healthy and has been able to return to her job, but a lack of hearing certainly comes with its challenges when directing a performance.
"Hearing loss has changed absolutely everything in my life. The hardest part for me has been the rehearsal process because one of the things I dearly loved about directing is hearing the nuances and the way a line is delivered and changing that," Mays-Nielson said. "I can't do that anymore and that's very difficult for me, as I am kind of a control freak when it comes to theater."
One of the ways Mays-Nielson has overcome this challenge is by giving two students, Nora Berkbigler and Reese Beckett, the role of Student Director.
"We are her ears. It's our job to notice the little things and pick up in areas that she [Mays-Nielson] hasn't adapted to yet with her impairment," Beckett said.
As for how they were chosen for the roles, Berkbigler said, "Mrs. Mays-Nielson saw that me and Reese have the potential to work really well together. We balance each other out in a yin and yang kind of way."
Mays-Nielson confirmed by saying, "They have different personalities. They look at things differently and handle people differently and I wanted that mixture."
In addition to their roles as Student Directors, Beckett and Berkbigler are involved in the production in other ways.
Beckett touched on her role as Head of Makeup saying, "I have to pre-plan exactly what I want to do for everyone's hair and makeup. During tech week you make sure that things go properly and by show night you basically have organized chaos when it comes to the makeup department."
Berkbigler landed the role of Yvette, the French maid in "Clue." "It's been hard for me to adopt this role, as I'm neither French nor a maid, but I've got a friend who is French who has been helping me a lot."
While the crew is excited about this year's production, the cast has been working equally as hard.
Alton Medlin plays Wadsworth, the overarching villain of the story.
"Wadsworth is a proper British butler with a lot of secrets," Medlin says. "He knows more than he lets on and he's very manipulative."
Medlin says that he has watched and taken inspiration from Tim Curry's version of the character from the 1985 film.
Medlin also touched on how Wadsworth, despite still being an antagonistic role, is different from the character he played in Romeo and Juliet.
"He [Tybalt] was very angry, and forward. Forward in the throat as if he is ready to bite your head off. Wadsworth is more of a Bond villain type character. He's slower, more methodical. Because of this I've really had to slow down my monologues and choose my words carefully."
Michael Koppeis, who portrays Professor Plum said, "The cast has really gotten everything together…I have just been in awe of this cast, everyone is starting to take it seriously and do some amazing work."
Anna Sikes, who portrays Ms. Scarlett, is also Theater Guild President. The Theatre Guild President is the person that does promotion for the show, takes care of getting tickets and posters printed, and organizes anything that the Theatre Guild wants to volunteer for.
"Just touching on the cast, they really are perfect. Sikes said. I'm inspired when I come to rehearsals, and everyone is really a treat to work with."
All of the cast and crew are excited to see their hard work pay off, and are hoping for a great turnout to this year's show.
"Clue" will be at Truman Auditorium November 17th, 18th, and 19th at 7pm. Admission is $7 for adults and $5 for students.
Leave a Comment
About the Contributor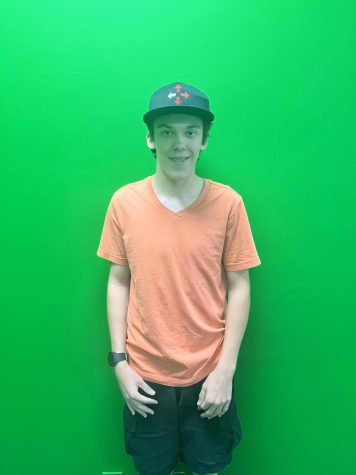 Allen Smith, Journalism Staff
Hobbies: Listening to music, playing guitar, playing video games, and writing
Spirit Animal: Jerry the Mouse
Theme Song: I'm Not by Zero 9:36
Favorite...