Spring Musical – Little Shop of Horrors
Farmington High School has a musical every 3 years and we will be having one this year called The Little Shop of Horrors. If you are not aware, maybe you should look up from your phone and look at the hundreds of signs in the hallway. This musical is most certainly going to be one for the books. Then again every single one of the plays the Theater Guild puts on is incredibly well done. Our very talented cast this year consists of
Audrey- Katie Orr
Seymour KrelBourn- Wyatt Bach
Mr. Mushnik- Parker Shinn
Orin Scrivello- Van Kleppe
Audrey II- Mr. Aaron Bryant
Crystal- Abby Hogan
Ronette- Madeline Joyce
Chiffon- Rachel Deidiker
Patrick Martin- Jonah Hagerty
Swings- Jonah Hagerty, Van Kleppe, Claire Parmer, Elayna Copeland
Parker Shinn, the assistant director says, "The musical is something that everybody should definitely come and see." Of course like any good thing, there were a few bumps in the road. By bumps I mean they had to change the show completely. They were going to do Joseph and the Technicolor Dreamcoat. If you arent religious basically Joseph has eleven brothers. Therefore, they would need eleven leading men to play his brothers. There just were not enough boys to put on that play. Therefore, they agreed upon Little Shop of Horrors. An equally amazing musical, if not better for our female actors.
What is Little Shop of Horrors? Well, the play takes place in Skid Row, New York. Mushniks Florist's Shop to be more specific. Seymour the main character played by Wyatt Bach is an anxious young man working in the flower shop. He is in love with his co-worker Audrey, who is played by Katie Orr. Seymour receives a plant, this plant creates the whole storyline. The plant starts off small and harmless but develops throughout the musical. Throughout this development, the plant starts to rely on blood. The blood causes the plant to keep growing and growing until it becomes the size of a car. Hence the horror part of the title, a very fitting name.
If this sounds interesting to you at all I highly suggest coming to Truman Auditorium March 25-27th or the 28th at 2 pm. They will be selling admission tickets at the door for $5, and masks are required. If you are concerned about your safety and health I assure you this is totally safe. They are limiting the capacity to prevent any issues. So a completely safe and entertainment-filled night awaits you. So come on down and support Farmington and support the Theater Guild.
Leave a Comment
About the Contributor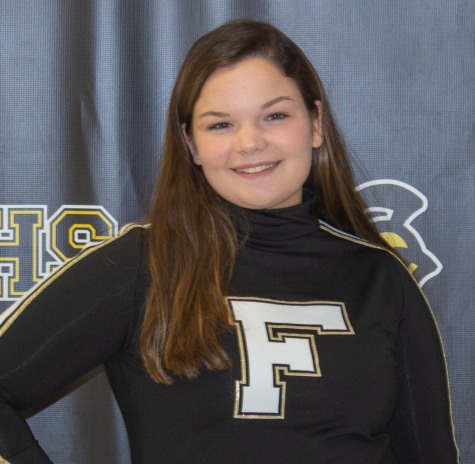 Adrienne Perry
Interests: Cheerleading, Reading, and Watching Disney Movies. 

Quote: "Life isn't waiting for the storm to pass, it's about learning to dance in...