Latin Honors 101
Many FHS students are aware of Latin Honors, but most DON'T know how to check how many needed service hours they have or what exactly to do in general. This new system put in place this year has resulted in some unintended confusion and needs clarification.
To get some background on the basics of the Latin Honors system, check out this link! If you still need a further understanding, go see Dr. Reeves or check out this site: click here! In summary, the newly regimented Latin Honors system has gotten rid of class ranking and resulted in three levels of honors you can ascertain upon graduation, although it's not mandatory. To achieve the highest level, you must have 100 service hours by graduation, with a maximum of 25 per year. (For sophomores through seniors this is adjusted due to this just being implemented). You must also have 30 hours of internship and a high GPA. The two lower levels are for students that didn't quite meet the maximum requirements but still are worthy of honors.
Students are grasping and embracing this new system well, and are earning their hours by the day. The problem is that most don't understand what they are supposed to be doing with all this information.
To start, here is how to check how many Latin Honors hours you have:
THIS DOES NOT WORK ON A PHONE!
Go to SIS, as if you would check your grades
Go to the side bar on the left and scroll all the way down
Click on "Programs and Services" which is the second-to-last option
Click "CLEAR ALL FILTERS" in yellow at the bottom of the page
Tabs will then show up saying "A+ Community." (THESE ARE YOUR HOURS!)
When clicked on, the name of the event you worked for and the amount of time will show
Go through each tab and manually add up how many hours you have. (It doesn't give you a grand total).
**As a side note, in order to register these hours online into SIS, make sure to get a form from the library you write your activity on and turn the form back in to the library as soon as you can after the activity.
**It takes a few weeks for your hours to show up on SIS.
When asked if he knows how to access Latin Honors hours on SIS, Parker Shinn, a sophomore, said this: "I have no idea how to access Latin Honors hours." When asked how many people he thinks know about Latin Honors, he said: "People have heard about it but a lot don't know the little details." When questioned about what he thinks would help students be more aware of Latin Honors, he said: "Each seminar should sit down and talk about it."
When asked if she knows how to access Latin Honors hours on SIS, Ellie Hinson, another sophomore, said this: "No. I don't think many people know a lot about it."
So far, both the juniors and seniors have had a meeting explaining this system, but the freshmen and sophomores have not. However, other meetings open to everyone have taken place, and emails sending out service hour opportunities have been abundant. A student can easily find out information on this system if they just look, and if nothing else, they can inquire a knowledgeable teacher!
Although at this point in time this new system is vauguly known by everyone, little details such as accessing earned hours and what hours technically count are still up in the air.
General rules of Latin Honors:
Any service you do for money DOES NOT COUNT! (Besides concession stand duty or if permission is given such as for a club).
There is no limit on the amount of hours you can earn at one time, such as in the case of some other clubs. (This doesn't mean to do service for 25 hours straight, but it does mean if you work something for six hours or so, all of those hours count).
Always make sure and fill out a form for your service activity
Don't stress about the internship part, ask Dr. Reeves for more information on that!
GPA still matters with this system, but not as much as with the class ranking system
Doing Latin Honors IS NOT MANDATORY FOR GRADUATION! This is a common misconception. Latin Honors are exactly what they sound like–honors! However, they do look very good to colleges and on a resumé!
Once again, it would be a great idea to check out this website if you are still confused: click here!
In all, this new system here at FHS still takes some getting used to, but resources are out there to clear your questions! Hopefully, participation in earning Honors should not only encourage a student to work hard, but also help them develop an appreciation for service and internship.
Leave a Comment
About the Contributor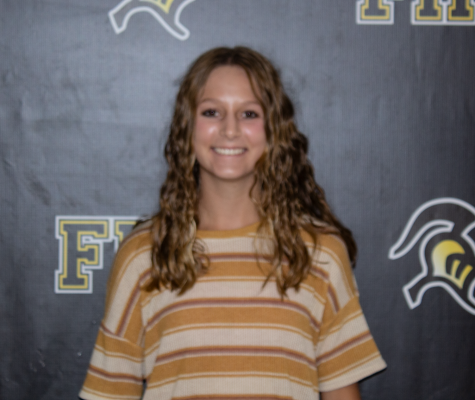 Breanna Mathes, Author
Interests: Cross Country, Track, Student Council, FBLA, Journalism

Quote: "We are what we repeatedly do.  Excellence, then, is not an act, but a...