Carmelo Anthony Signing
Carmelo Anthony Signed with the Portland Trail Blazers, and this is going to be a game-changer for the Blazers if they can use him correctly. Carmelo Anthony is 35 years old, he bounced from team to team these past couple years and could not find a team to stay on. Carmelo Anthony at one point in his long career was one of the best scorers the game has seen. Carmelo Anthony is an 11 time ALL-NBA selection, and 2 of them were first-team. He was a 10 time All-Star selection, and is a 3 time gold medalist.
Now we know Carmelo Anthony has the experience. Even though he has never won a championship, he has been deep in the playoffs. Carmelo is still a terrific scorer when used correctly. When I say correctly, I mean not a spot-up shooter like teams have tried to make him; I mean give him the ball and let him work with pull up shots, post-work, etc. Carmelo Anthony wants to play, everyday he is working on his game. Carmelo's Career average PPG (Points Per Game) is 24.0. This man gets buckets. It is so hard to get a player who can average that many points a game. There are maybe 25 guys in today's NBA who can do that every year. The Blazers don't need him to do that, but it's nice to have a guy who can do that at any time. The Blazers could use Melo to just run the second team and provide big buckets off the bench. That's the most effective way he could be used. The only problem with that is Carmelo has been quoted in the past to say he is not a bench player, he has never wanted to come off the bench. But with Melo not being signed for a long time, I'm sure he will be open to being anything the Blazers want him to be.
Now onto why the Blazers could be contenders with Melo signing. The Portland Trailblazers are 5-9 in a tough western conference. After making it to the western conference finals last season, this in not the start they want. According to Adrian Wojnarowski, Neil Olshey told Carmelo when signing him,
"We need you, and you need us." Carmelo Anthony could bring that presence and spirit on the court the Blazers need to get out of this rut they are in. The Trail Blazers have a Top 5 point guard, A top 10 shooting guard, and just acquired Hassan Whiteside in the off season who is an 18 and 12 guy. You put an 11 time All-NBA selection player, who has the experience in the NBA, and can get you 25 a night when being used correctly. Melo should average around 10-12 PPG and bring in a couple of boards. This does not sound like much, but with having superstar talent on the roster like Damian Lillard (PG) and C.J Mccollum ( SG), who both can drop 50 on any given night, is very suitable for the Blazers. Play like this for any team with big time scorers is very crucial for teams trying to contend for a title. It's giving them another guy they can count on with the ball in his hands to go get a bucket. It looks like the Portland Trailblazers can compete in the tough west and make a run in the playoffs with this new addition of Carmelo Anthony.
Leave a Comment
About the Contributor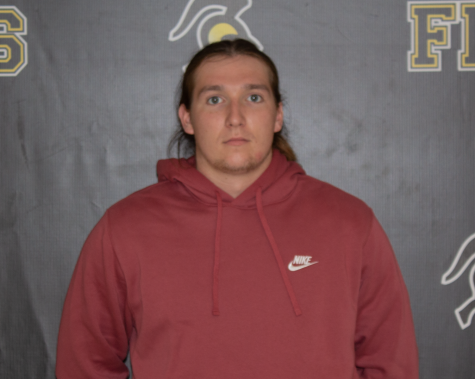 Blane Worley, Sports Writer
Interests: Talking to cute girls.

Favorite Quote: "Shoot Your Shots"- Kobe Bryant

Theme Song: "Seth Rollins Walk Up Song"

Dream Job: ESPN...