A Farmington High School Success: Natalie Sago
There are currently eight women working at the full-time referee level in the NBA. This is the most there have ever been in the league. Of those eight referees is Natalie Sago. Natalie was the fourth woman to become a full-time NBA referee, officiating NBA-G league and WNBA games before the high-ranked official status. Knightlife had the amazing opportunity to interview Natalie a few weeks ago.
Born and raised in Farmington, Natalie Sago attended the Farmington school district K-12. While attending Farmington High School, she was a member of the girls softball and basketball team. Natalie says that she "loved going to school" at FHS and that FHS has a "great community."
As a Senior in 2007, the girls basketball team went to the state tournament and made it to the state championships for the first time in Farmington High School history. Natalie states that this was a "very neat moment for the community and the school, and everybody involved." Sago and her teammates grew up playing basketball together, so attending state finals together made the whole experience less nerve-racking. She says that the team was "a little nervous, but if you aren't nervous, you aren't human."
When asked what made her want to become a referee, Sago explains that she didn't actually want to become one.
"My dad refereed for 35 years, doing high school basketball and football around the area. I traveled with him and my mom took me to a lot of his games growing up and I watched him work with his colleagues. Everybody yelled at him. I was like "there is no way you could pay me to do this."
When Natalie finished college, she really wanted to get back into basketball. She went to her dad, and at the time was a P.E. coach at Farmington Middle School, and told him she wanted to try out refereeing basketball games. Sago then went on to referee AAU basketball on Saturday mornings and afternoons. After a while, Natalie started to enjoy being a referee, and then became certified in the state of Missouri.
Natalie was told that she needed to go to a college camp, and from there she was scouted while reffing a college division 3 game at Fontbonne University on a Saturday afternoon. The scout called her three days later and told Natalie she needed to try out for the minor leagues. From then on, Natalie became an NBA official.
As a referee, there are many pros and cons of the job.
"The travel part is fun. You get to go to different cities and try different foods and different climates. But also, during the winter months, you have to deal with flight cancellations and delays. You just never know," she added.
Another con can be the challenge of the job.
"You have to be really mentally focused for 2 and a half hours and because we are under a microscope, there's a target on our back, we have to do our best job every night," Sago explained. But overall, Natalie believes her job is enjoyable, and she has met so many people so far. Natalie has also developed so many friendships, and knows people in all of the states. "Even in other countries – we just hired our first Canadian referee, so I know a few referees from Canada, I know one from Mexico, and so it's only going to grow more. I'm going to continue to build friendships and relationships with other referees in all parts of the world," Natalie said.
As a referee, your every move is watched carefully and calculated. This criticism can be tough for refs; especially on social media.
"This day and age with social media, any little mistake, we won't even make a mistake, and it'll be all over ESPN and Twitter, so you have to have tough skin, and you can't let that stuff bother you," Natalie said.
"I see my name pop up on Twitter all the time, and I just let it fuel me. It just makes me want to go referee again. It motivates me, it doesn't get me down or anything," she continued.
Being a referee means dealing with angry players. Natalie has had her fair share.
"We're not really supposed to talk about it or name players, so I'll tell you this; being one of few females in this job, it's been a very positive experience for me so far. There's been one small instance, but I handled it and I dealt with it at that time and everything has been fine since then. That certain player and I have talked since then and he's good. You just communicate and you can't hold grudges. You're going to see these players every single year, multiple times a year. Communication is key," Natalie explained.
As one of the only women refereeing in the NBA, Natalie has had an overall great experience.
"It's a neat honor. Obviously all of us here have worked hard to get here. It's not just because we are women in a male dominated business. I'm just trying to keep moving forward and giving other younger girls and women that positive impact that you can do whatever you put your mind to, and as long as you work hard, you can do that job. You can do it no matter if you're a male or female and whatever type of business that is."
View Comments (1)
About the Contributor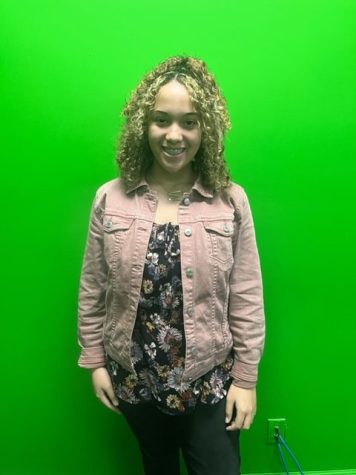 Mady Washington, Journalism Staff
Hobbies: Swimming, reading, writing, and Sudoku
Spirit Animal: Owl
Theme Song: I Wanna Be Yours by Arctic Monkeys
Favorite Quote: "When they go low,...