Celtics Season Analysis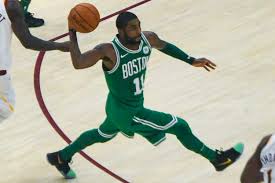 The Boston Celtics have come out of the gates looking much better than anyone could have predicted. After losing Kyrie Irving, sports analysts predicted that they would have a down year, which means not winning that many games and then trying to rebuild the team by next season. So far, that isn't the case. The Celtics gained a new player who might be the key to their success, Kemba Walker. Coming from the Charlotte Hornets, he was looked over and his full potential wasn't seen. Now that he is on a team like the Celtics, he is actually able to do some good work on the court. The current W-L record the Celtics have is 10-2, which is the best in the Eastern Conference. Fans are hoping that they will be able to keep up the performance, but only time will tell as the season goes on.
The Celtics had a relatively good season last year, with a positive record of 49-33. This was also the year that Kyrie and the rest of the Celtics had the biggest divide of his two-year tenor with them. He forced shots when there were open players, along with other mistakes that only come when a player is dissatisfied with playing for their current team. The Celtics actually played better without Kyrie in the playoffs during the 2017-2018 postseason. Seeing these things happen led fans to believe that Kyrie wasn't fit for the Boston style of play, and he saw it too. He demanded to be traded and was accordingly sent to the Brooklyn Nets, where he is causing more problems with their team chemistry.
All in all, the Celtics seem to be better off with Kemba than Kyrie, despite Kyrie being seen as a better point guard. Fans want to see the team keep up the good record, and depending on what happens later in the season, they just might be able to.
Leave a Comment
About the Contributor
Luke Berkerey, Sports Writer
Interests: basketball, tennis, ice skating

Favorite Quote: "it's a tough year to own a monster truck" -Jeff Kreckler

Theme Song: Transportin'...