Cross Country Conference/Potosi Invitational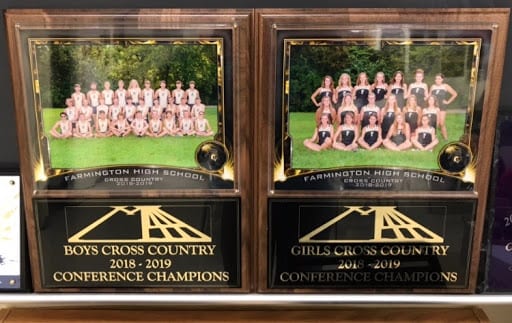 By: Breanna Mathes
For the first time in years, the Farmington boys and girls varsity cross country teams are conference champions!  The nearly decade-long drought was finally quenched on the muggy morning of October sixth, 2018 on a hilly course and hot day.
It was no secret that Farmington was out to beat Potosi, one of the main teams in which had been defeating the boys for eight years and the girls for seven, and who was also the host of the meet.  This year the final standing scores were much more in Farmington's favor than in the past; the boys won conference and placed seventh overall with a score of 184, and the girls scored 68, putting themselves first in conference and first overall.  Three boys and six girls placed in All-MAAA conference positions, a strong showing among all other MAAA schools present, which included Farmington, Potosi, North County, West County, Arcadia Valley, Valle Catholic, and the newly established team from Fredericktown.
When asked about how he felt about both the boys and girls winning conference, especially since it had been such a long time since it had been accomplished, Coach Stone replied: "After so many years of falling just short of winning, it felt really good to get the job done.  To get a win on the day when the temperature was so warm was particularly satisfying." Then he continued, "One of the highlights of the day was freshman Bre Mathes, who became the first Farmington girl to ever win an individual conference championship. We've never had a girl finish higher than third in the conference. Her performance was outstanding!"
Corinne Myers, a junior and team captain, said: "Being a part of two varsity teams who've lost conference by just a couple of points, it felt really good to win this year."
Natia Turner, also a junior and another team captain, said: "It was great to see both sides of the team walk away as conference champs; it showed that hard work and effort can really pay off!"
Furthermore, with it being October, the girls varsity team was able to sport pink jerseys in honor of Breast Cancer Awareness Month.
In all, both the boys and girls varsity teams went against the odds of weather and competition, winning conference titles after almost a decade of losses!