Wadlow's Gold Medal Highlights Knights' State Trip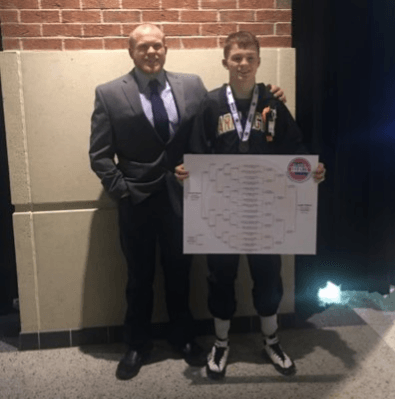 2/25/19
After being affected by the flu his freshman year and sustaining a season-ending injury his sophomore year, the third time was the charm for Farmington wrestling standout Austin Wadlow. Wadlow secured the lone gold medal for the Knights wrestling squad who finished 13th in Class 3 out of a field of 53 programs.
Austin walked into the 113-pound finals match with a prolific 36-6 record and was pitted against Michael Finley of Willard, who held a 44-8 record. A tough and scrappy match, Austin was able to pull out the victory in a 4-3 decision, securing his long held spot as the top Class 3 113 wrestler and bringing home a championship for your Farmington Knights.
As indicated by his Twitter, Austin has still yet to be satisfied with his recent success. He will be looking to continue his dominance for his final season in a Farmington wrestling uniform, and attempt a repeat of the title in his senior year.
Dalton Berg, the second-ranked 220-pound wrestler in Class 3, came out with a solid performance in his third place match and delivered a win in a 11-2 major decision over Evan Bragee of Fort Zumwalt South.