Homecoming Queen
Homecoming has been around for a long time, starting all the way in back 1914. Homecoming events mainly include pep rallys, the football game, parade, and the dance, but a large amount of the homecoming traditions include the homecoming queen. Farmingtons homecoming queen for 2022-2023 is Aiden Moriaty. Ever wonder what the experience of homecoming queen is and what includes then keep reading.
When asking her who she was representing and why she chose to represent them she answered, "I chose band, and it wasn't really a choice like people voted for me, and another reason was because band is often forgotten about."
I then asked her, Why was important for her to win, she said, "I do a lot of different things so I feel like if I were to win, then I wouldn't just do it for band."
I then asked, what does it mean to you to win homecoming, she said, "I don't know a lot of the majority people, but knowing enough of the minority makes the majority. Knowing all the little guys kind of helps defeat the big guys."
I also asked her, What was she looking for in her dress and she responded, "Okay, so that's actually a funny story because I went shopping for it, and I don't like the mermaid style. I don't like the big sequins and the other flashy stuff. Because then the dress woud be wearing you and not you wearing the dress. And so when I was looking, there wasn't a whole lot that I liked and homecomings normally short dresses anyways, so there wasn't a huge selection. And so I found a dress that I liked, but it was fine. And I'm at home and I was looking at a dress that my sister wore to her school dance that's where I ended up wearing."
I then question, would you like to give any advice to future candidates, If so what would it be. She replied "If you think there's going to be a chance that you are going to be a candidate already start planning before you find out because all the shirt stuff is signed last minute you just got to get it done as soon as possible in worst case scenario you just get rid of everything. What in your opinion made you the best candidate, I think I'm nice but I think if the quantity of votes that I had wasn't enough the quality would be. I do a bunch of different stuff. Again, I was representing more than just being in band. And the last question was who inspires you most in your life, and said her mom for sure because of her hard work.
Leave a Comment
About the Contributor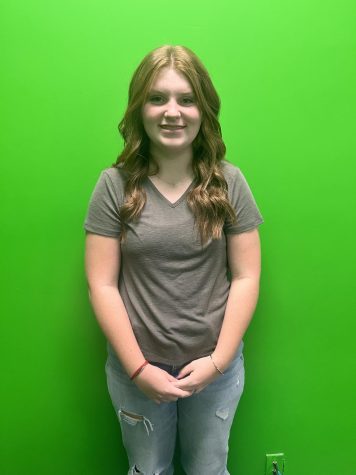 Jillian Masters, Journalism Staff
Hobbies: Hanging out with my friends and going on walks
Spirit Animal: Dog
Theme Song: 505 by Arctic Monkeys
Favorite Quote: "Don't trust anyone...