Student Feature: FHS STUCO President
This year's student council officers (president, vice president, secretary, treasurer) were announced to STUCO members on Monday, March 7. The president for next year is senior-to-be Taylor Matthiesen. The vice president is TJ Benoist, the treasurer is Shelby Bowling, the secretary is Abby Miller, and the PR manager is Aubri Laramore. STUCO is a student organization that meets every Monday to plan events, and organizes school spirit boosters. Matthiesen is entering her fourth year as a member of STUCO, and has held the positions of class president, class treasurer, and student council vice president. She competes in competitions with Knightline, and is also a member of the National Honor Society, and Knights in Action.
Even with all of her extracurricular activities and the responsibilities that come with being STUCO president, she is not concerned with overworking herself. "I'm really good at managing my time, and I'm used to keeping myself busy and that's one of the things that I like to do, which you can probably tell by how much I'm involved in." Being the STUCO president also has lots of responsibilities. Student Council is responsible for planning homecoming festivities, pep rallies, Project Grad, and Sweetheart. They also organize the float building for the homecoming parade, and members have to work 25 club hours in order to run for officer positions like president, VP, etc. The president in particular is responsible for leading the discussions on these topics, and organizing ideas within the group. He/She runs the show and helps move the events along. They are also responsible for setting up and fundraising for Prom and Project Grad, which requires at least $30,000 in fundraising.
I asked Matthiesen about the process for becoming STUCO president, apart from getting those 25 service hours, and attending the mandatory meetings held every Monday. "Every year they change up the interview process for overall officers. Sometimes they'll have you write an essay, they did not have us do that this year. In years past, I know that they've had you get 100 signatures from (the) student body and 20 Teachers signatures. They also did not have us do that this year… This year, it was just an interview and they asked you what would you change about the school climate? What is your weakness? What is your strength?" All the candidates for officer positions had to answer these questions in front of Dr. Lammonds, the STUCO sponsors (Mrs. Dement, and Mrs. Montgomery), and others.
I asked Matthiesen what her favorite thing to do with STUCO is. Without hesitation she stated "Hallway decorating. We spend a lot of our own money on that. And we get really competitive." She will be running for class president for the class of 2023 as well. She would be one of very few people to be both class president and student body president at the same time. "It's gonna be one tough race! We'll see what happens!"
Leave a Comment
About the Contributor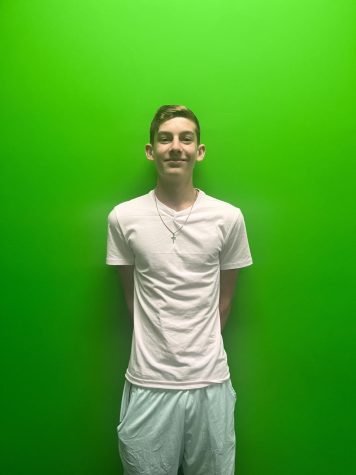 Jace Denison, Journalism & TV Staff
Hobbies: Playing and watching baseball, basketball, and football
Spirit Animal: Peacock
Theme Song: Nail Tech by Jack Harlow
Favorite Quote: "I have...