Cheerleaders Take 2nd At Regionals
Everyone that plays a sport longs for the day that they get to compete and show off their hard work. You walk into a stadium and you're so nervous your hands are shaking and, you're full of adrenaline. Your coaches give you the classic pep talk and possibly pray with you. That feeling is unlike any other and it is what many athletes look forward to and work for. Your parents/guardians are waving at you wishing you good luck. At that moment nothing seems important to you except competing.
Things look slightly different this year for cheerleaders and dancers. Everything is virtual this year due to COVID-19. The adrenaline and stress that goes into having a crowd watch you aren't there. Competing is harder and just doesn't feel the same for anyone. However, that doesn't stop them from trying their best to place as high as they possibly can.
Recently, Farmington Black Knight Cheerleaders submitted their final film for the Regionals Cheerleading Competition. That whole celebration process was very different from anything they've done before. The Cheerleaders had a potluck and they ate and watched a live slideshow of the teams competing and what they each placed. Everyone was still nervous to see what they placed even though they weren't there. The Cheerleaders ended up getting second place at Regionals and they couldn't be happier. Now they proceed onto The State competition.
I discussed with the Head Coach for Black Knight Cheerleading, Casie Eichel, and asked her what the cheerleaders could improve on to get a better score at State. She said, "We need to work harder every day and push towards our ultimate goal of First Place. We have worked very hard and I am proud but I know we can do better as a team". I asked a few Cheerleaders and they all completely agree with that statement. Therefore, they will work harder towards their goal for the State Competition.
Leave a Comment
About the Contributor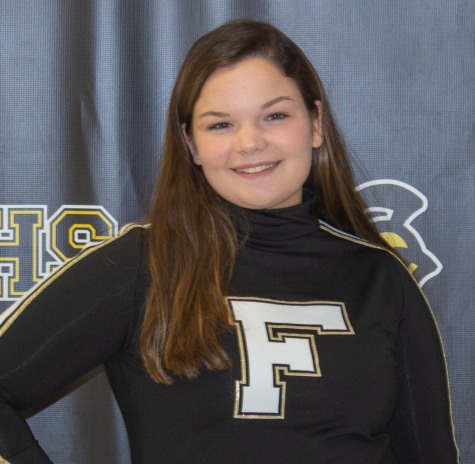 Adrienne Perry
Interests: Cheerleading, Reading, and Watching Disney Movies. 

Quote: "Life isn't waiting for the storm to pass, it's about learning to dance in...