Staff Spotlight: Mr. McIntyre
Brandon McIntyre, teacher of Social Studies, Psychology, and Sociology has been teaching at FHS for 19 years. Mr. McIntyre is known for his unique and interactive teaching style which makes nearly all of his students love his classes. Additionally, his students may also know him as a dictator and rapper. Though, was Mr. McIntyre always like this? How did he develop his teaching style? What does he want his students to take out of his class? I had an opportunity to visit with Mr. McIntyre and learn of his experiences and how he got to be the teacher he is today.

Mr. McIntyre has taught some, in his own words, "horrifically boring" classes. He believes the root of this was the way he presented the information, that being in a disconnected way. Over the years, he's learned how to make the topics seem more related to one another. The best strategy Mr. McIntyre has developed is to simply make lessons in which he is also interested. He said that he tries to "create experiences for the students that help them make sense of the seeming randomness of the past." Mr. McIntyre also tries to focus more on historical thinking skills over the historical content itself, creating as he previously said "experiences" for his students instead of just the facts. As he put it, "Google can give you all of the facts you seek anyway."

One of Mr. McIntyre's main goals is to get his students to leave his class with a smile. He believes that if his students can find joy in learning, then real passions to pursue are more likely to develop. He said, "I want my students to smile; I want them to laugh; and if they do those things, learning will follow."

Despite all of this, Mr. McIntyre didn't always want to be a teacher. He only realized that he wanted to pursue teaching in his third year of college before he pursued several different career paths including an engineer, a journalist, and he even had the desire to be an astronaut. He said, "

"

While those are all extraordinary professions, teaching has given me an opportunity to engage with thousands of young people over the last two decades. I think that the decision to teach has given my life a greater purpose beyond what those other options could have offered."

— Mr. Brandon McIntyre

" As one of Mr. McIntyre's former students, I would agree that his choice of profession is well suited and we have all benefited from his knowledge, experience, and engaging teaching.

Although COVID-19 has made this year more difficult for him and everyone else, Mr. McIntyre has continued smiling through it all despite acknowledging that it is, "Harder to smile this year, harder to laugh." That's really the type of upbeat attitude you can expect from Mr. McIntyre, he always tries to be optimistic and to make others smile. It's difficult to really explain what one of his classes is like, it's truly something that needs to be experienced. His unique teaching style has not only enlightened but made many students laugh all the way through the year. We can all rest easy knowing that Mr. McIntyre will continue to educate and entertain us in his extraordinary way.
Leave a Comment
About the Contributor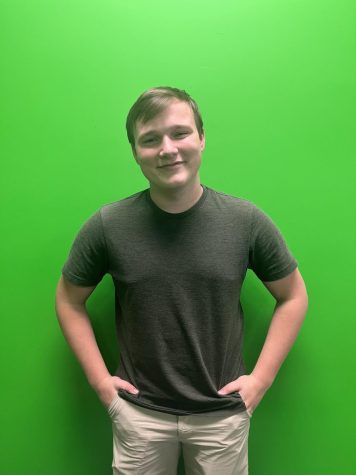 Michael Koppeis, Journalism & TV Staff
Hobbies: Filmmaking and playing Nintendo games
Spirit Animal: Golden Retriever
Theme Song: Livin' La Vida Loca by Ricky Martin
Favorite Quote: "I...