Girl Power During District Competitions This Fall
Four of the girls' fall sports won their districts this year. Softball won their district with a record of 20-12, volleyball with a record of 12-13-2, tennis with a record of 20-22, as well as cross country. This incredible feat is rare and each team had to work extremely hard especially with the adversity that 2020 presents. Every team has had to deal with COVID-19 in different ways but despite this, they all won their districts.
Softball's season was vastly different than years past. The team got a new coach 2 years ago, Coach Bryan Wallen who completely revamped the program. . The team started training harder than ever. One to two-hour practices became three to four-hour practices every day after school. They also had numerous weightlifting sessions as well as countless drills that helped them improve their game. Senior Sloane Elam says " He pushed us to where we are now he made us do everything that he made Central do when he coached there and they went to state four or five times." When they began prepping for districts they watched tons of film on the other team which helped the team to know what to do in clutch situations.
When the day finally arrived at the North County field the girls were hyped up and ready for the game to come. Farmington had previously lost against Hillsboro by just one point in the last inning with two of their starters quarantined, but this time the girls decided that they were ready for some payback. The girls fought hard the entire game and in the last inning, the girls had 5 runs against Hillsboro. The Knights needed to make sure that the opposing Hillsboro team didn't score. The Knights notched two outs against Hillsboro and the final out came down to junior Abby Robins, who fielded a ground ball to throw to first. And just like that it was over. The lady Knights stormed the field and embraced each other screaming in triumph. The seniors all shared a teary-eyed embrace with one another holding on to the moment that they made history as the second team in Farmington softball history to win districts.
Volleyball also had a season full of adversity, the volleyball team historically has had a solid team that has won districts the past 5 out of 6 years. That all changed last year when the team hit a rough patch and lost their district last year. The entire team was heartbroken. The juniors from last year were determined to make this season different, not only because the sets were now going to be three out of five, but because they wanted to leave a different legacy than the one left the year before. Each player worked incredibly hard in the offseason and even into their regular season. The players had numerous two-hour practices, weightlifting sessions, early morning practices, and film sessions. Senior Sophia Pullen says " we had to work out a lot of the kinks and figure out what worked best for our team." They fought hard during their season and battled through injuries and quarantines but finally, they got their full squad back and were on a hot winning streak.
The day of districts had arrived and the girls were anxiously warming up on the Perryville court. Senior Bridget Bone says " I was screaming, I know lots of us were excited to be there because we had lost the year before and the seniors, juniors and the sophomores that were on the varsity team last year were kind of dreading districts because we did not want to lose again and use another second-place plaque as a coaster." The game was best out of five and Perryville stole the first set from the girls. After that, the Farmington girls kicked it into gear and won the second two, when the third set hit it was a battle both teams went back and forth but in the final points sophomore, Grace Duncan, served the ball and the Perryville team played it out but hit the antenna on the third attack and for a moment the entire crowd was stunned. When the girls snapped out of the daze and realized that they had actually done it they all rushed towards each other engulfing one another in a tearful embrace. The five seniors all held hands and walked together to collect their first-place plaque. The team worked hard and restored their place as district champions.
Tennis had an interesting year as well. The individuals have to not only compete with other teams but also with each other for their rank. The top five for this year was (in order) Abigale Doty, Kate Busenbark, Karmin Duncan, Susan Rippee, and Abbi Thurman. These ladies had back to back games and squeezed in practices whenever they could. The Knights had previously played Cape Central in their regular season and had beat them already. They were confident that they could beat them again, they also had the home-court advantage which made the knights relax and just play their game. The final match points came down to sophomore Abbi Thurman, who won her match and put the team at a 5-0 composite score and winning districts. Senior Karmin Duncan says " When she won her last point Abby (Doty) and I were the first ones to go on the court and everyone just huddled around each other… It was a great comeback from last year." The tennis team has also had to rebuild their team after their seniors had left and winning districts was just one step in their bright future.
Cross country is slightly different from the other sports that have been previously mentioned because it is more of an individualized sport. Most of the cross country athletes are more focused on their PR's (personal records) more rather than the actual record of the team. Because of this, the cross country team has been doing exceedingly well this season because they are each able to focus on what they can individually do better so they can improve their times which in turn helps the team. The Knights won their conference meet which helped their ranking and amped them up for their district meet. Cross country is a difficult sport to prepare for, there is a balance between working yourself to exhaustion and just getting a good workout in. Senior Emma Spiker says " I run about 3,4, maybe 5 miles a day. I can't just decide to run 10 miles a day or my body would break down."
The cross country team was very confident in themselves because they had a few individuals that made it to state last year which set the stage for more success in the district meet. However, the girls had their game faces on and were focused on the race itself and nothing else. The girls strategized what they were going to do on certain parts of the path where they knew the terrain fairly well. The terrain in Arnold was vastly different from the path that our runners are used to here, but Bre Mathes and Alaya Sparr got first and second place in the district causing the girls to win districts. Afterward, all of the girls were hugging, crying, and taking lots of pictures. It was a momentous occasion that none of the girls will ever forget.
Each of the women's fall sports worked extremely hard and put in countless hours to win their districts. They will all forever be recognized in Farmington high school history as the girls of fall. They have shown what it means to be dedicated, hardworking young women who have put their hearts and souls into their sports.
Leave a Comment
About the Contributor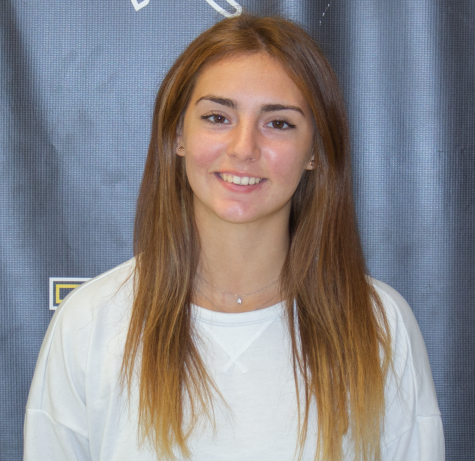 Lauren Obenauer, Author
Interests: Volleyball, Track, and Sleeping 

Quote: "My 90 day trial of 2020 is over I would like to unsubscribe now"

Theme Song: Better Together...