What's In Store For FHS? COVID-19
When the school year came to an abrupt halt in the middle of March, no one expected to be unable to walk into the doors of Farmington High School until an entire six months later. For that matter, however, not many people expected in-person learning would remain an option by early November, either. One thing 2020 has taught American students is that plans can change in a matter of minutes. With winter and the classic flu-season quickly approaching, this raises speculations as to what the rest of this academic year could contain. The big question: Will schools get shut down again, or have they found an effective way to cope? Will an entirely new phenomenon take place?
Hannah Horn, a freshman at Farmington High School said: " I think that the school year has gone pretty good and everything, for the most part, has been able to happen." When asked if she thinks when winter comes the school year will be different, she replied: "In winter I think more people will have to go into quarantine." Then, when inquired about if she believed that whoever wins the upcoming election will influence if public schools stay open, she answered; "I feel like depending on who wins we may have to stay home or we may be able to stay in school." She remarked that she thought if Donald Trump won, the school will stay open.
Madelyn Willaims, a junior, said her piece about the issue: "I definitely think the year has gone better than I expected. To be honest, I thought the entire school would have had to go hybrid or virtual after the first month back so I am really happy that we are still able to go." Her thoughts about the winter were this: "I think that there will probably be more cases that appear, just like with what happens with the flu. As for the subject of school, I hope that things will continue like they are now, with people being quarantined if exposed but not shutting down the whole school. However, if Covid starts to really grow in the winter, like the flu, then I would not be surprised if we might have to switch to alternate methods."
As for the election, she said: " I honestly have no idea how the election of the president will influence the schools. I really think that depends on how Covid cases grow throughout the winter." Nathan McCarthy, a sophomore, said: "As of what has happened so far, I think that the school has done a swell job executing prevention the best they can." When asked what he believes the winter will hold, he said: "I think that people will act as if everything is normal…but also have a high chance for people to take more action into being more aware of their surroundings of others and respecting people's space."His opinion on the influence of the coming election was this: "Depending on who wins will definitely impact us, but it comes down to the situation of the person attending school."
It is without a doubt 2020 has been one rollercoaster of a year! Although at this point nothing would come as a blatant surprise, students have voiced their hope of school continuing to be in session. What will actually take place is uncertain, but FHS will conquer whatever crosses its path!
Leave a Comment
About the Contributor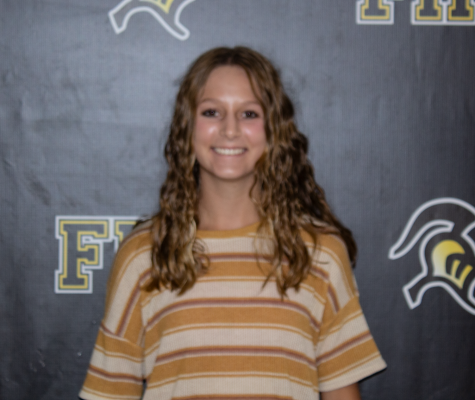 Breanna Mathes, Author
Interests: Cross Country, Track, Student Council, FBLA, Journalism

Quote: "We are what we repeatedly do.  Excellence, then, is not an act, but a...