Humans of Farmington
Emily Childs, a senior at FHS, has had many achievements throughout her high school career and she's an inspiration to many. She teaches students a lot about character and leadership through her outstanding examples. She works hard to achieve her goals, steps up when no one else will, and she speaks up for the underdog. She's an incredible influence. This is her story.
Starting off, in her freshman year, Emily had joined JROTC. "My older brother Blayke Childs went through it and I wanted to do it." Through JROTC, Emily has had many accomplishments, including five commander positions, Kitty Hawk Award, and the Scottish Rite Award. These took a lot of hard work and perseverance. It took her two and a half years to get her Kitty Hawk Award. According to Emily, when she finally achieved the award she was "over excited. I can not even explain. It was like one of those dreams that finally came true." She has also accomplished other achievements, such as her Missouri Certified Nursing Certificate and 284 service hours. Through her dedication, Emily teaches other students that hard work pays off.
Moreover, Emily is also a terrific leader and steps up when needed. She's always the first to make sure everyone's on task and doing what they need to do. In class, if students aren't listening when they need to, she's help call the room to attention. When kids are goofing off or not doing what they need to do, she's politely redirect them and help keep them on task. Students listen to her and follow in her footsteps because she leads by example and shows them how to act.
Lastly, Emily always speaks up for the underdog. If she sees someone being mean, she'll speak up and make it clear that that's not alright, although that may not always end in the best way. When asked what she would do if she witnessed someone being bullied, Emily stated, "First it should be taken to someone who can actually handle it, and then I would stand up and make it clear that it isn't okay and that they should stop. I have actually done it before and it doesn't always end good." She has a lot of compassion for others and she doesn't let anyone feel like they don't belong.
Emily is an amazing student, leader, and friend. She has a lot of character and she does what she can to help others. She leads by example and leaves a influence on students. All and all, Emily Childs is a great role model and her story is one full of inspiration.
Leave a Comment
About the Contributor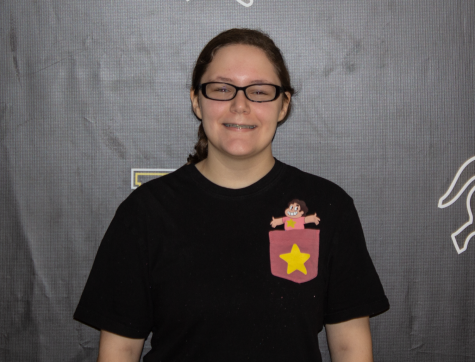 Amber Turner, Author
Interests: Musical Theatre, Painting, JROTC, Choir, Writing

Quote: "Hi, my name is Trey and I have a basketball game tomorrow" -vine

Theme Song:...