"To Make the Best the Better"
4-H America's largest youth leadership-based organization-"empowering nearly six million young people across the U.S with the skill to lead for a lifetime." 4-H collaborates with more than 100 public universities to provide education through the basis of "learning by doing," this program has been encouraging kids to learn and rise be leaders for more than 100 years. Through its extraordinary curricular this program has been very successful and nearly six million kids who participated in 4-H have taken on the job of addressing critical issues such as health inequalities, civil discourse, etc.
Pooja Dayaratna, the Club President of the 4-H kid's committee in Farmington, started to participate in the 4-H Lab Revolution Robotics Program in 2015 and already she has learned and mastered skills such as 3D printing, sewing, building with VEX IQ pieces, and creating and programming 3D designs. She says "I have always been interested in robots and finding out how things work." And Lab Revolution provides the perfect opportunity for her. 4-H includes many more clubs around St. Francois County like Bear Creek Kidz Club, Central R-3 Rebel Bots Club, Farmington Farmer Club, Ozark Roughriders Club, Purple Clover Club, Saddle Creek Club, and many others.
4-H provides future opportunities for kids in the career path they want to work in. For Pooja, this Career path is Computer Science. She said, "I know that I want to do something with Computer Coding as a career so the robotics part of 4-H will definitely help me later when applying for colleges and jobs." Not only does 4-H help with future activities like filling out college applications and job applications, but it also helps kids figure out what might be the right path for them and gain experience in that particular field.
Knowing what interests you and what you want to do in the future is important, but being in 4-H also provides kids with unique and fun opportunities. Pooja's robotics team qualified for World Competition last year, when I asked her what her favorite experience in 4-H was and she said, "Going to World Championship last year and I got to meet other teams from all over the world."
Leave a Comment
About the Contributor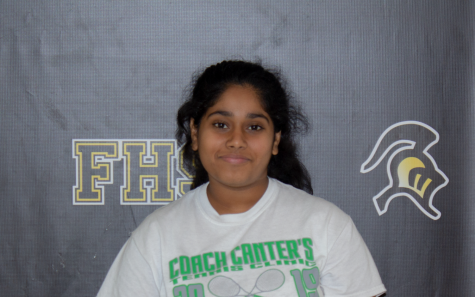 Siddhika Naik, Author
Interests: Tennis, Baking, Sleeping, Reading, Watching Netflix, Painting. 

Fav Quote: If your dreams don't scare you, you aren't dreaming big enough. 

Theme...