Fit Farmington MO
Health and fitness is a crucial aspect of life, but it is not always easy to maintain a healthy diet or a daily exercise routine. During the winter, between the cold weather and all the holiday events, eating healthy and exercising becomes even more difficult. You may have heard the phrase- "A healthier community is a happier community." Dawn Fuemmeler and a group of health experts are taking the meaning of this quote one step further and applying it to our own community.
"
A healthier community is a happier community"
The City of Farmington is grouping with other local organizations to spread health awareness and really focusing on wellness around the city of Farmington. The initiative is called "Fit Farmington MO" and the group is looking to organize events to educate Farmington residents about health, fitness, and fun.
By starting the program, they are trying to get more people to understand the importance of healthy living and applying it to their daily lives. Dawn Fuemmeler says, "I hope to see changes and people deciding to make a series of simple changes that will lead to better health, such as eating more fruits and vegetables, eating less processed foods and sugars, drinking more water and less soda and energy drinks, moving their bodies more and making stress reduction a priority."
Mrs. Fuemmeler is also working with Associate Superintendent of Farmington Schools, Dr. Ashley Krause to bring together Fit Farmington Mo into the school health initiative Dr. Krause and her team have started in the district this year. Students are a big part of the community and Mrs. Fuemmeler says, "I'd love to see students at the high school band together in their seminars or clubs and decide on some healthy changes they can try to incorporate as a whole. Maybe walking laps in the gym once a week or offering healthier choices during seminar food days. I would like to see energy drinks and sodas eliminated from the vending machines and healthier options added to the snack machines and Knights Locker."
As part of the Fit Farmington Program community member will be encouraged to start using specific hashtags on specifics days. For example, Monday is all about focusing on emotional and mental health. So if you read a book to relax or meditate you can post a picture about it and include the hashtag #motivationalmonday.
Weekly Hashtag on Social Media:
#motivationalmonday (focusing on emotional/mental wellness)
#tryittuesday (encouraging people to try something new: new whole food or new exercise or something that fits the Fit Farmington theme)
#walkingwednesday (encouraging people to get out and take a walk in Farmington)
#thankfulthursday (focusing on emotional/mental wellness through gratitude)
#fitfriday (encouraging people to share what they are doing in the movement category)
Below are the dates for the Official Kick-off For The Ongoing Fit Farmington Program
Saturday, January 11, 2020
8 AM – 2 PM
( ) Civic Center Open House
( ) Free Classes
10 AM – 2 PM Healthy Living Showcase
( ) Healthy Food from Local Restaurants/Grocery Stores
( ) Happy, Healthy Vendors
2 – 3 PM Pre-Program Music in Centene Center
Local talent
3 PM
Afternoon FREE EVENT at the Centene Center featuring author, TED Talk presenter and Wellness Educator Diane Burton and special features with local students and community personalities.
( ) Attendance Prizes
( ) Community Involvement
Below are the sponsors for this program:
The city of Farmington
Parkland Health Mart,
Axes Physical Therapy
First State Community Bank
Parkland Hospital/BJC
Earth Mother
Harmony Chiropractic
Sage and Street Eye Care
Lean Kitchen
BOGO
Hearing Care Partners
Leave a Comment
About the Contributor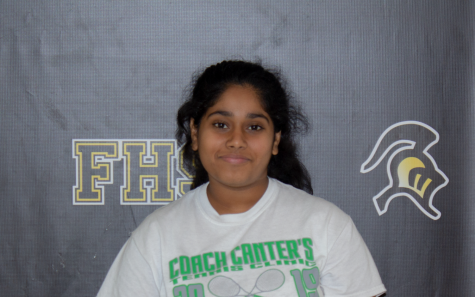 Siddhika Naik, Author
Interests: Tennis, Baking, Sleeping, Reading, Watching Netflix, Painting. 

Fav Quote: If your dreams don't scare you, you aren't dreaming big enough. 

Theme...