Girls Cross Country Qualify for Sectionals, AGAIN
The girls cross country team qualify for sectionals, again! They did so last Saturday, October 26, 2019, at Jackson. The girls have qualified for two years in a row now with having a very young team both years. The team is very young with only a few upperclassmen and one upperclassman is actually captain, Corrine Myers. The team was about to defeat Seckman and Lindbergh this past weekend to be able to travel to Parkway Central this coming weekend.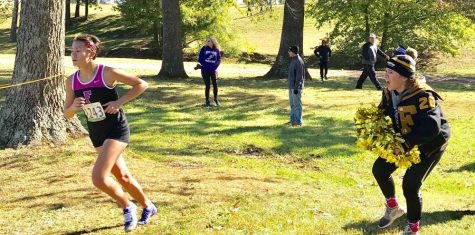 I was able to ask Coach Jordan Stone a few questions. However, it wasn't a surprise to Coach Stone that they made it this far this year. When asked, "Are you surprised with your girls team qualifying for sectionals?" Coach Stone responds with, "I don't know that "surprised" is the word. Class 4 cross country is tough. Almost every school has quality runners at that level. We desperately wanted to get through to the sectional meet as a team, and we knew going in that there were six teams good enough to earn one of the four available sports. Thankfully we were able to narrowly defeat two excellent teams (Seckman and Lindbergh) and earn a trip to sectionals! It could have gone another way. All season long, Brianna Eaves has been our number six or seven runner. At the district meet, she was our number four runner. If she had been our six or seven, we wouldn't have made it through. We were fortunate to be just strong enough to defeat several good teams and advance. Our girls ran great, and I am very proud of their efforts."
The Girls Cross Country team in the prior season didn't make it past sectionals and had no individual qualify for state. The team overall got 7th place in Sectionals, but the whole school was proud of how far they made it! However, they only had one senior on that team running for them in their 2018 season, so they got a lot of talented runners back in the 2019 season.
When talking to Coach Stone, I asked him, "Is this year more important than any other year you have coached?" and he responded with, "Every year is important. No one year is more important than any other. That being said, when the team is talented, there is definitely more pressure to achieve and not let that opportunity pass. After a strong year last year, we knew we had a chance to be even better this year, and we have set expectations accordingly." This season is a very accomplished season so far, and the girls team is ready to see where it goes from here.
This year is only one of a handful of times that the girls team has made it to sectionals, and only a smaller handful made it past sectionals. When asking Coach Stone "How many times have the entire girls team qualified it to sectionals?" Coach Stone says, "This is the second time in my coaching career that the girls have advanced to Sectionals, and the fourth time in my coaching career that we have had a girls team advance beyond the district meet as a team."
When talking to Coach Stone "This year you still have a pretty young girls squad, is this exciting for you to have a lot of your girls come back?" he says, "Yes, it is always exciting to be good, but particularly exciting when you are having success with younger athletes. All coaches know that doesn't guarantee success in the years to come, but it certainly suggests that there's hope for the next couple of years that we could perhaps be even better than we are right now, especially if the girls stay healthy and put in their offseason work."
"I know you have a captain that is a senior, how are you going to transition to a new captain next season?" he says, "As I go through the year, I'm always watching how my athletes interact with one another as I look for the next captains. There are certain qualities I'm looking for, and I see them in a couple of the kids who will be back next year. I don't know for sure who next year's captains will be, but I have a good idea."
The girls have a very big mountain to climb this weekend and Coach Stone and the entire school believes they all can do it. Overall, Farmington wants to wish the girls good luck on this very important journey and we all hope that they have a good meet at Parkway Central, stay warm and stay safe.
Leave a Comment