The Final 10 Weeks: A Tribute to Seniors
Although it may be hard to believe, the end of the school year is fast approaching. More specifically, seniors have less than ten weeks before they walk out of FHS's doors for the last time. Spring is on its way, classes are picking up, and students are beginning to daydream about summertime. But for the class of 2022, the conclusion of yet another school year is beginning to mean something different than simply summer vacation. By the end of May, adulthood will begin to open its vast, unique doors. Some twelfth graders are elated by the changes in life that will ensue, while others feel stark apprehension. With less than ten weeks left of the school year, what better time to recognize our seniors?
Emily Reever looked back on her time with FHS fondly. What she appreciates most about her days with FHS are its academics, teachers, and the band program. Her note to underclassmen and incoming freshmen is: "Take hard classes! Involve yourself! You never know what you might or might not like. Also, don't care what other people think about you." Emily is thankful for FHS providing her an opportunity to earn an Associate of Arts Degree from Mineral Area College upon graduation and a great band program to excel in. Her thoughts on high school ending soon are: "It's bittersweet. I love high school and I love the people in it." Emily Reever is going to Southeast Missouri State University to pursue nursing.
Ethan Anderson is another senior. Ethan appreciates the friends he's made and teachers who have had patience with him through the years. His message to those younger than him is: "Enjoy your time and don't be afraid to try things, like sports and clubs. You might find something you love." Ethan is thankful for high school providing cross country and track for him to pour his heart into and meet people that could help guide him and be friends with. In response to having less than ten weeks left of school, Ethan said: "I didn't even know we had that little time left! Ten weeks isn't a lot. It's very nerve-racking and it probably won't hit me until I have my cap and gown on." Ethan plans to pursue the accounting field at a university in St. Louis and to live a happy, healthy life meeting new people and branching out to new things.
Carter Murray is another senior boy. He is thankful for the life skills and experiences FHS has given him. His message to rising generations is: "Take advantage of any experience and try new things." Carter is thankful to have been a part of Future Business Leaders of America and to have grown as a leader and person throughout his four years. Carter said it is scary but also very exciting to be moving on to the next chapter. Carter will be attending Westminster College and will be pursuing a degree in political science and minor in pre-law.
Madelyn Williams is yet another senior who is passionate about her time at FHS. Madelyn has appreciated how prepared FHS teachers make their students for whatever they want to do post-high school. "There are so many opportunities for students to find their path," she said. Madelyn's advice is to not fall behind on work and develop a good work ethic. Madelyn is thoroughly thankful for her dual credit classes and the fact that she is able to graduate high school with an Associate of Arts degree from Mineral Area College. She thinks it has made her college admissions process a lot easier. "I am so sad we are already halfway through our last semester! I loved my time here and will miss high school a lot!" Madelyn plans on attending the University of Missouri and pursuing the pre-med track. She plans to hopefully attend medical school after, but she wouldn't be surprised if her plans change.
Senior year is a time of expectations, excitement, and apprehension. Now that the finish line is near, reality is surging closer and closer. No matter what lies ahead in the Class of 2022's future, one thing is for certain: Farmington High School will have left an impact on all its students.
Leave a Comment
About the Contributor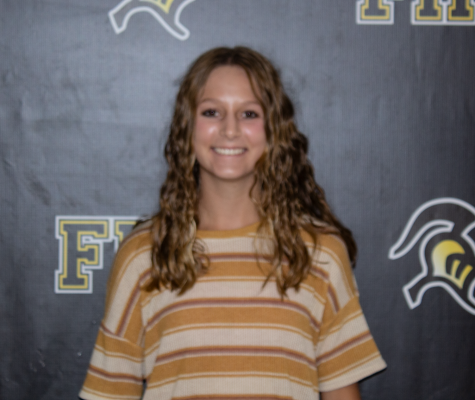 Breanna Mathes, Author
Interests: Cross Country, Track, Student Council, FBLA, Journalism

Quote: "We are what we repeatedly do.  Excellence, then, is not an act, but a...