Political Cartoons
In American History Through Literature, Mr. McIntyre assigns a political cartoon project each year. His students create cartoons of the problems they witness here in FHS to mimic actual political cartoons used as propaganda against certain political advocates or certain standpoints. The student's cartoons are entered into a contest where students from every class pick their top twelve favorites. From there, the staff chooses their favorite which produces the top three winners. This year, those winners were Abbi Thurman in third place, Diep Phan in second place, and Olivia Lugo in first place.
In an interview with Olivia, the first place winner, she stated, "Originally I had about three ideas I had planned out and I didn't know what to do, and I was freaking out the night before [the due date], and finally I decided on that one. I knew for a fact that I wasn't going to win, so when I won it was very surprising." She also stated her biggest struggle was "trying to get my point across by trying to catch others' attention, trying to be funny, and using as little words as possible. Like I said, I had many other ideas. Some of them had too many words, they weren't funny enough, I ran into a lot of issues." Although she had issues, overall she stated, "I really enjoyed it! I think the project was a really cool way to let Mr. McIntyre's students express themselves! I know for a fact it was a cool project for me because as soon as I heard about it I was like 'Finally, I get to show everyone how much I hate the ICU List!"' Many students here at FHS are disgruntled with the ICU List and express their dissatisfaction quite often. In Olivia's cartoon, students in middle school are being told they "will not be babied like this in high school." Then the ICU List comes and treats students as literal babies, stating, "Don't worry kids! We will help you complete this simple task because you're adults now." When presented the question "do you think the ICU List is one of the biggest problems in our school," she said, "I think it's one of the biggest issues that kids have an opinion on. I know that a lot of my friends and other students don't like the ICU List, I think it's a very widely talked about and disliked thing."
When asked about what she thought of Diep's and Abbi's cartoons, Olivia responded with: "I think we all had really great ideas. I mean, I am surprised I came in first place because they're really great at art and they had really good designs, and I think they did really good." Both Diep's and Olivia's were over the ICU List, whereas Abbi took a different approach by covering how she felt about the lockers. These ladies had great designs with fabulous artwork, which worked well to their advantage.
Leave a Comment
About the Contributor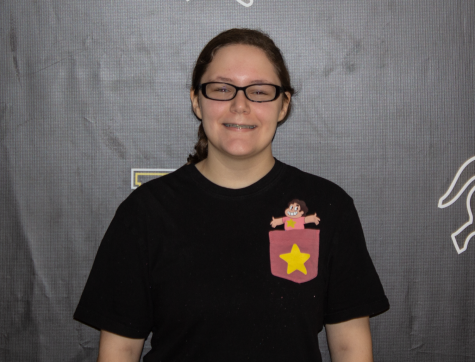 Amber Turner, Author
Interests: Musical Theatre, Painting, JROTC, Choir, Writing

Quote: "Hi, my name is Trey and I have a basketball game tomorrow" -vine

Theme Song:...