Dr. Krause's Input on Health and Wellness
When most students hear the word school, they think about a building in which kids are studying, bored, and stressed, but this is not what school is about. School provides students with education and a safe environment for them to learn about something they are interested in, but it also is about the health and wellness of today's generation. As students become more attached to technology and social media, it is important that they get physical activity in their daily lives and that they understand the importance of physical health and wellness in their lives and in their futures. Dr. Ashley Krause, the Associate Superintendent of Farmington School District decided that something needed to be done to fix the district's physical education curriculum. Her amazing efforts in the health and wellness area has already made a huge impact on our district and led her to receive the MOSHAPE Administrator of the Year Award.
"
I need for them to get excited, I need for them to enjoy P.E."
— Dr. Ashley Krause
When I asked Dr. Krause about the things she saw around the district that wasn't effective she said: "I need for them to get excited, I need for them to enjoy P.E." She also mentions how physical education isn't just for high school credits. When she and other professionals like PE coaches and nurses started thinking about how they could improve in this area, they came up blank. So, to help they called in a national speaker from the SHAPE organization to help. And this speaker introduced them to the WSCC chart. The Whole School, Whole Community, Whole Child chart (WSCC) contains ten elements that help build a whole child framework for success. Dr. Krause also mentioned that a team approach will be much more effective than individuals working in silos on this particular project, so they formed a team: Health and Human Services Team. This team meets once a month to collaborate and to think about the topic of health and wellness. These meetings help different teachers hold each other accountable.
Despite the fact that they have only been working on this project for about two semesters, there have already been advancements in health and wellness in the district. Heart monitors have played a great role in this by teaching students about heart rates and where they need to be at certain levels of activity. In the elementary levels, coaches are trying to get kids excited about physical activity by making connections with character. Dr. Krause says, "When you say character education or character development the first thing kids will say is their P.E teachers." Besides this, with lots of book study and research, they've seen tons of classroom activity improvements. One of the biggest improvements was at Roosevelt elementary school, where they now have bicycles for kids while they read. This is a great example of how a librarian and a P.E coach got together and came up with a great way to increase physical activity while also involving education.
Dr. Krause says, there is still a "long way to go."' She says they are still doing research about the benefits of physical education and how it affects mindfulness, well-being, and goal setting. There are also some bring nutrition problems in the district, for example, vending machines with unhealthy snacks, energy drinks, sodas, and giving out candy as rewards in the classroom, but Dr. Krause and her team already have plans for the future to improve these conditions.
Finally, as students, we have a big role in all of this. Dr. Krause says that our voice matters. There are meetings and committees that we can join and make a difference. As mentioned before, there are ten different areas in which students can focus on, and while Dr. Krause and her team are working hard to improve health and wellness at the Farmington School District, students can greatly impact this project too.
Leave a Comment
About the Contributor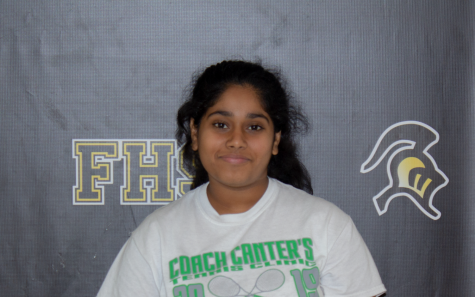 Siddhika Naik, Author
Interests: Tennis, Baking, Sleeping, Reading, Watching Netflix, Painting. 

Fav Quote: If your dreams don't scare you, you aren't dreaming big enough. 

Theme...