FHS Student of the Month
The Student of the Month Award for the month of November was received by, senior, Audrey Willams.
Audrey Williams, daughter of Marcella and David Willaims, is a Senior at the Farmington Senior High School and is going to graduate in the 2020 school year. She participates in various school activities such as Marching Band, Students Council, National Honors Society, and the Standing on Scripture club. When asked if she has a job outside of school she replied, "Not currently, but I volunteer at my church and at the Missouri Mines State Historic Site."
Audrey's favorite subject in school is science. She says that science has always been her favorite subject because it has allowed her to "expand her knowledge" in many ways. Her plans after high school are to earn an Associate's Degree by going to the Mineral Area College and then she plans on attending the Missouri University of Science and Technology and earn a Ph.D. in paleontology.
Thanks to Audrey for answering all my questions about her Student of the Month Award and other activities she participates in. Congratulations and good luck with your future plans!
Leave a Comment
About the Contributor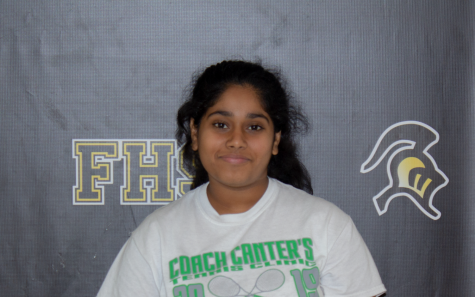 Siddhika Naik, Author
Interests: Tennis, Baking, Sleeping, Reading, Watching Netflix, Painting. 

Fav Quote: If your dreams don't scare you, you aren't dreaming big enough. 

Theme...